I actually had this idea for awhile, but only finally jumped on it after seeing someone else do something similar on Facebook.

I can't remember who made the bolt...someone on the RPF. I bought it maybe a year ago and upon receiving it, felt that it needed some sort of display container. I ended up buying a Vaultz pencil box and created some stickers in Corel Draw to go on the outside. I had planned on making a foam insert with a profile of the bolt cut out of it to give it a snug cradle, but my initial attempts at making this by hand were NOT going to cut the mustard. So I decided to make it more simple, using just block shapes. This does well enough at holding it in place for display, but it would need something more to truly hold it down in all directions. But regardless, I think it looks pretty nice all around. Maybe some day I'll get a more proper foam insert with profile cut out if such things can be made via shapeways.

The two symbols in the corners were recreated from images used in the movie.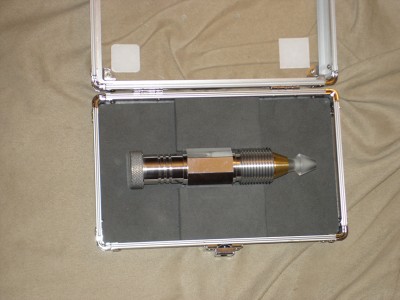 nuclear bolt 1.jpg [ 520.97 KiB | Viewed 1002 times ]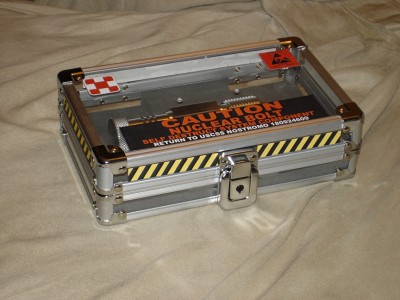 nuclear bolt 4.jpg [ 593.86 KiB | Viewed 1002 times ]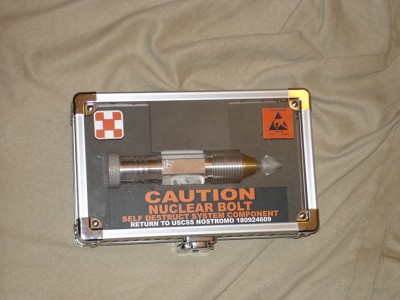 nuclear bolt 3.jpg [ 541.66 KiB | Viewed 1002 times ]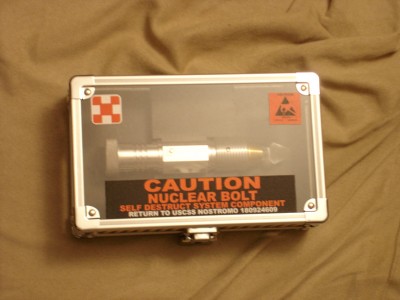 nuclear bolt 2.jpg [ 506.76 KiB | Viewed 1002 times ]

_________________
"Awww, someone tell me that's a boot!

It's a boot!"

II drops