Necro-bump but this is actually a really cool thread that I hadn't seen before.
Reason for bumping is I was looking for any talk of someone offering to make custom "Burke cards", I'm creating a character for a project and eventually this character will need a card.
Mantroon, fantastic work.
Love the minimalism and the throwback to Burke's card with keeping the same shape. Saying that, as much as I love Burke's card, it would be accepted and expected that "corporate" and "military" logic cards would be different, at least in shape. The translucent (plexi as we know it by) card could be a tech format in that time which could be scanned for information in the card by a special reader.
Not sure if any of you are familiar with the Canadian polymer bank notes ($5s, $10s, $20s, $50s and $100s) we use have holograms in transparent windows within the bills. The holograms are visible to our naked eye (


) but what if in these logic cards, they could only be visible under special lighting? ("black" lighting, etc.)
https://www.bankofcanada.ca/banknotes/b ... s/polymer/
Attachment:
Metallic Portrait, Holograms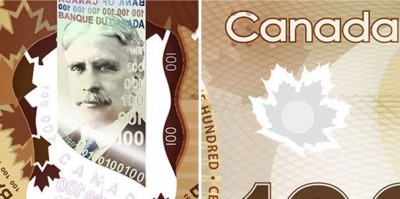 Canadian 100 Bank Note Holographic Window Details.jpg [ 49.14 KiB | Viewed 1170 times ]
It may be hard to produce these for collecting but that could look really REALLY insane and cool! Imagine how we each have our unique service number, but if we could generate a unique series of codes for a dossier/record of feats and endeavours. Say similar to a QR code where when it's "scanned" (visible and photographed via smartphone) it would lead to our dossier/record stored in a hidden (non-public linked) directory on the charter site. It may list any info we ourselves feel safe providing, such as location or ship deployment, our site awards, combat drops, etc, and short 2-3 sentence reports by our peers. For fallen members, their dossiers could be an "In Memoriam" page with comments from peers which everyone can access via their own QR code on the way to their own dossier.
If these can be made cheaply enough, they can even be collected like challenge coins.
EDIT:
Been googling holographic printing, and while not exactly what I was looking for, this is still really cool, and would be neat for the portrait!
https://www.lumiidisplay.com/#homesub
https://youtu.be/pdLH7AkfxsY
And this from 2013:
https://www.youtube.com/watch?v=jUxUGeUqZdE
But THIS:
http://www.hlhologram.com/hologram_IDoverlay.htm
is what I was thinking of
_________________
Cpl. Melissa L. Klassen, ALG

Ask about your Armour stencils/Nostromo stencils - Worldwide shipping! Send me a Private Message