"Photos or it didn't happen":
Attachment:
The one on the left has a hut on the pocket and no schooner above it, same as the one in Bob Burns' collection as photographed by Stephen210. The one on the right has a tree in bloom on the pocket, and the schooner is visible.
Same pattern, just aligned about 5" differently on the shirt.
The other big breakthrough is that it is a half drop pattern. I've been beating my head against the screen trying to figure out how the pattern repeats when the various elements seemed to be all over the place.
Attachment: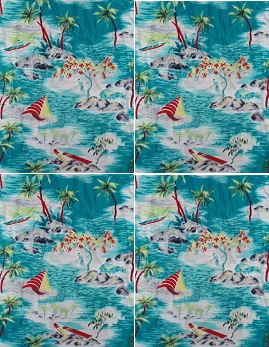 shirtexample1.jpg [ 100.37 KiB | Viewed 9942 times ]
A history lesson on Hawaiian shirts helped me understand better how they are designed, and low and behold the pattern repeats by dropping down halfway:
Attachment:
shirtexample2.jpg [ 100.54 KiB | Viewed 9942 times ]
I just whipped this up in Paint so it isn't perfect, but trust me when I say this really makes a difference. I'm still working to perfect the pattern of course. These examples come from a member over on the Prop Summit who's shirt follows the same pattern, just with different colors and more detail. It seems this layout was popular enough to be mimicked. In fact, Xander on Buffy the Vampire Slayer wears a third variation of this shirt pattern in the 5th season opener, "Buffy Vs. Dracula". I couldn't find a decent screen-grab, but it's there!