First thing, My first post in this glorious thread
I know I've done it before, Adam but I wanted to publicly thank you for sharing all of this awesomeness with us. The level of authenticity you are achieving is out of reach for most of us, so I'm glad you are able to achieve it and are so transparent about it.
This thread should really be added to the Archives. I might suggest that someone save all of Adam's photos and directly upload them to the board so we don't lose these invaluable references
I know personally I've visited this thread many a time, there's so much information in here! You are unaware Adam but you are helping me with a current project with your posts and updates!
Because I am just as much as a detail freak as you, I've jumped in to the hunt for parts myself.
I can tell you that you are without a doubt correct in the fact that we are looking for a Magura perch and a Magura brake lever.
And your perch is definitely the correct one!
However,
I've learned that the fact that you found your perch on a '76 Husqvarna WR360 is

irrelevant
. It was just luck that that is where yours came from. Many different makes/models of bikes carry this part. For those searching for their own perch,
I suggest generalizing your search for "Magura perch", "Magura clutch" and "Magura brake".
I did think I lucked out and found my own perch. "Mine" was found on a
1984 KTM 250
. I immediately messaged the seller about shipping to Canada when he replied that the listing was an error, he did not have that item, he had it listed in 2009, and has since moved shop. The listing was then ended. I did grab the photo however
Attachment:
As for the lever, Mr. septic, quoted below is absolutely correct:
septic wrote:
I've been doing some crappy extrapolations based on the assumption that the foam motorbike grip is the standard length of 125mm.
My [and I think Adam's too] Magura lever - measuring from the centre of the lever mounting bolt to the tip of the ball - is 175mm long.
This over-hangs the end of the grip by about 40mm and so, going off the ref pics, clearly isn't right.
Faking up a pivot arc ->
the correct lever clearly ends before the foam grips rear-most ridge.
Using that idea and the the generic short lever mock-up I started with, I estimate that the correct lever is between 120mm-125mm long (as measured from the centre of mount bolt to tip of ball).
So, as to
which
Magura short lever is the right one, that remains to be found ...
In my opinion I have discovered that
the brake lever we are looking for is 5 1/8" long (130mm). It is black and glossy and the "ball" on the end is very round
as seen in this photo Adam has provided of Vasquez's smartgun circa 1985
Attachment:
I have yet to find such a lever, but I have found one that has many similarities, except that it is matte black and the ball is flattened on both sides.
Attachment:
(In packaging)
Attachment: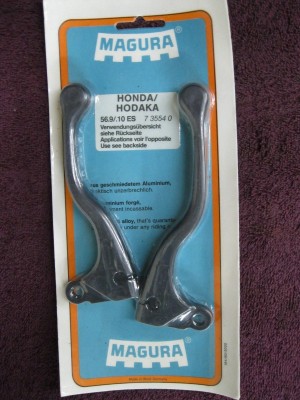 Honda Hodaka Magura Shorty Brake Lever 130mm 7mm Pivot in Package [4].jpg [ 307.88 KiB | Viewed 16421 times ]
Notice the logo is slightly different than Adam's? I believe this is the correct logo that the screen used lever carries. If you look at the reference photo of Vasquez's rear grip, you can see the "textured" area starts
just
before the bend in the lever starts. On Adam's lever, the logo is just too short to reach the bend.
Attachment: