It's been way too long yet again...but here's the final part of my Houston trip story.
So day #3 was pretty epic. I was invited to come see a remarkable collection. I can't go into detail about the collector or the actual collection, but I'll share two photos that he allowed me to post on Facebook.
First up, and really the best one is as you'd figure it to be:
That is one of the two screen-used smartguns, which I believe to be Drake's, but I must put a bit of research into this once I get a good computer to analyze screen captures with other photos that I have. No, I cannot post more photos of this, and I will not share them privately out of respect for my friend. This gun is SICK. First of all, I love when people give me a hard time about taking an MG42 machine gun and 'ruining' it to make the smartgun. A lot of these people say that the MG42's in the movie were not permanently modified for the film or that they were rented. Well, take it from me: the MG42's used in the movie were permanently modified for conversion into the smartguns. The front grip mount is welded to the shroud, and the C-clamp that connects the steadicam arm to the gun is anchored by a large screw, of which a large hole is drilled into the bottom of the shroud. So there you have it, if you want an accurate smartgun and use an MG42, you DO have to weld to it and drill into it.
Now, I also will post this photo, because I love the pulse rifle a lot too:
That is not screen used, but was made for production. It was still awesome.
These two props were just two of the many, many highlights in this collection. You have NO idea how mind-blowing it was. I held some pretty insane things that day and I'm still in awe. The best part about these props (and they aren't all from Aliens) is that they are in the hands of a truly awesome guy. Seriously, he couldn't have been any nicer and hospitable to my buddy and I when we visited.
After the trip to his place, my buddy and I headed to San Antonio to celebrate the propgasms we just had with some pizza: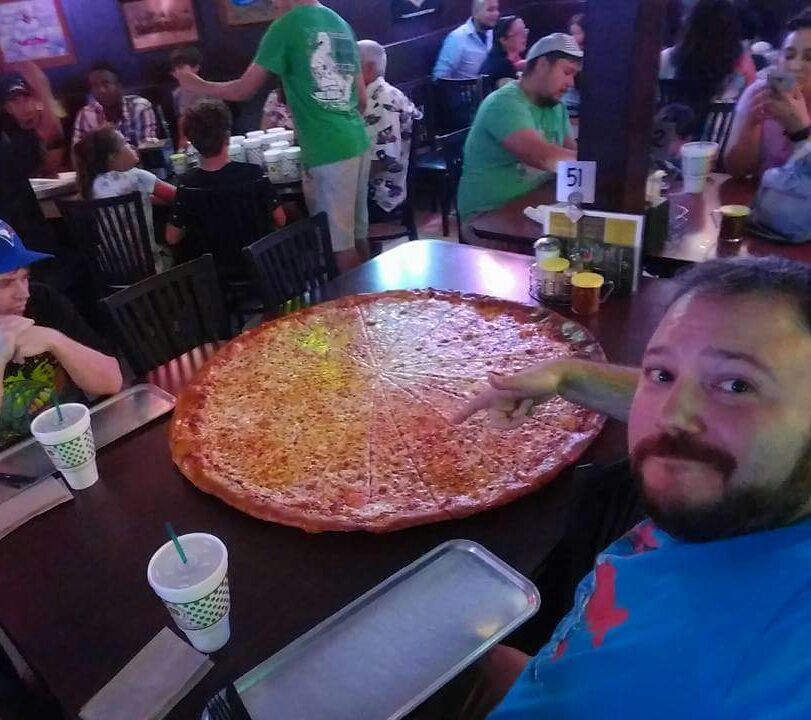 We couldn't eat it all, but we tried. I'd say that we put about 40% of the pizza down. We then had to suffer a 2-hour drive back to Houston with the leftover slices in the trunk of the car, which caused the entire car to smell like pizza. I could have killed my buddy for insisting we take the leftovers (he didn't want us to look like we were defeated). We ended up giving the leftover pizza to the valet guys at the hotel. The next day we headed back to Pennsylvania.
Since then, the smartgun progress has begun again...there were some personal issues on behalf of the guy who is helping with my gun that prevented him from working on it for a bit. His health is way more important than my gun, so I'm just glad he is getting back into the swing of things.
I have also begun the process of finding accurate parts to make my friend's screen-used smartgun screen-accurate again. I'm so thrilled that I know enough to be able to help him.