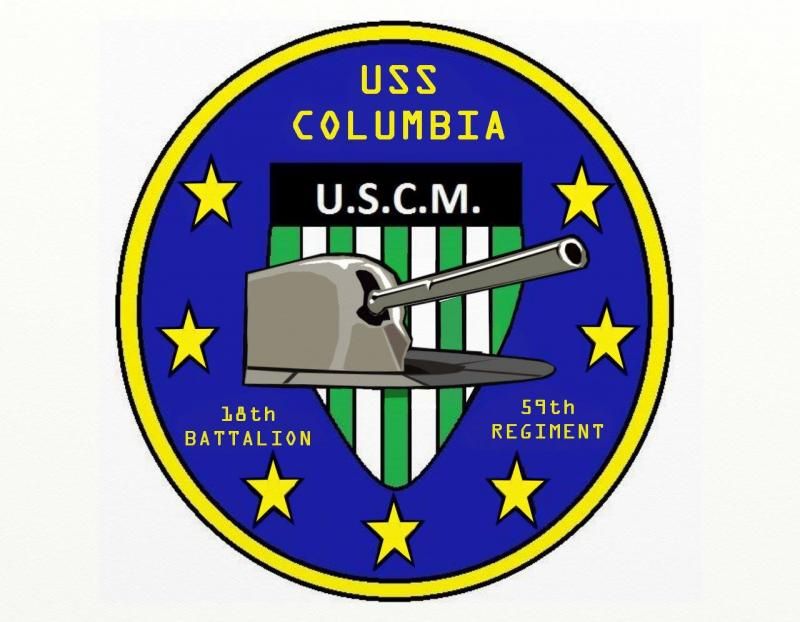 Just to flesh out the USS Columbia's patch.
Info on the design:
Designed by WO1 John K Williams, aka "Music Man".
Round design inspired by the USS Sulaco patch. Shield design inspired by other ship patch designs, specifically the shield and stars.
Stars represent the original 7 members of our newly formed crew.
Stripes on the shield... no rhyme or reason. In fact, it was actually a goof on my part that there are nine stripes on the shield instead of ten.
Colors were chosen to reflect the colors of the state flags for both Oregon and Washington States, since we have crew members from both sides of the Columbia River (natural border between Oregon and Washington States. Blue and gold are represented on Oregon's State Flag. Green, black and white (the shield) are represented in Washington State's flag.
The name USS Columbia was chosen because it was a symbol that best reflected the members or its crew. As indicated, the river is the natural border between both states. The Columbia River itself was named after the ship that Robert Gray captained when he explored the region. Originally, we were going to call ourselves the Gray's Harbor. But that was too much of a Washington State reference, as Gray's Harbor is well inside the state of Washington. Since we didn't want to take on a name that seemed to be Washington State themed-heavy (a potential slight that could have been seen by our friends over at the USS Duwamish), we opted to go with something more neutral to all parties involved. So we picked a name that reflected a river, a longstanding tradition of naming a ship and an old army fort that was commissioned to protect the mouth of the river.
The big gun in the center piece is one of the cannons that is on display at Fort Columbia, Washington. Fort Columbia is one of many forts that were built for the sole purpose of providing security and protection for citizens at the mouth of the river.
The 18th Battalion / 59th Regiment name comes from the fact that Oregon was admitted into the Union in the year 1859.
So concluded our modest introduction and history lesson!

I'm planning on ordering an abundance of patches, soon. Of course, we will see to our members getting their initial 2 patches per member. After that, if there is interest, I may consider offering patches to those who would want them.