Ok, so another discovery!
After searching for pump adaptors, I noticed the newer ones seem to have only one 'toothed' cog at the end.
I did a search on ebay and eventually found this one which had the correct two cogs:

This also had the correct crimp at the same end.
After inspecting the photo some more, i made a nice disocvery on the other end: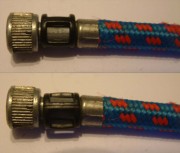 You can even see the same seam down the centre of one of the bars.
Heres a quick comparison: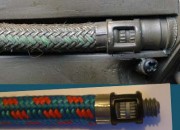 I have no idea what this plastic rings function is on the pump adaptor. I'm wondering if the lower part on the helmet, where the adaptor end sits into is from a pump. Some sort of rubber part that the adaptor would screw into.
So there you go, just need to find another adaptor the same now!
Lewis