AaronHorrocks wrote:
Mixing and matching actual USMC items with a sci fi military uniform, will attract attention from real Marines. Every Marine in the room will notice every tiny item that you're wearing, if it's an actual issued piece. And believe me, the Marines are filled with assholes. There's a good chance one of them is going to make an issue out of it.
From my personal experience... I guess I was lucky.
So I put together a Dress Blues interpretation that while it did not have any USMC insignia, it did have a genuine issue USMC tunic and dress cap: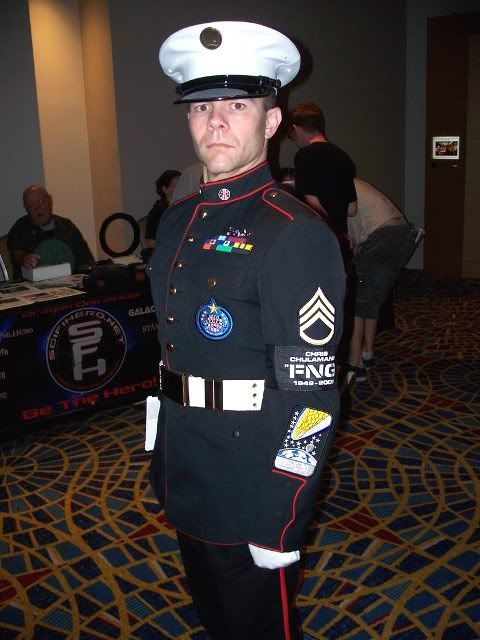 I wore this only once at Dragon Con in 2008. During the convention (while Cpl Smth and I were in Service C uniforms), two Marines came up to us to ask what our uniforms were about as they closely resembled USMC Srv C's.
So we explaned the Aliens reference and went on to ask about my Dress Blues and what kind of reaction it would get (this was the day before the parade and I had not worn it yet... and was a bit nervous about it).
They went on to explain that as long as three items were not correct or out of order, you were considered to be "out of uniform" and therefore not breaking the law (yes- law) of impersonating a serviceman. Also in the context of a costume convention, wearing this kind of uniform is a little more acceptable. But out on the street as everyday clothing, or at a bar trying to pick up chicks you're looking for an ass beating (rightly so).
That was the night before the D-Con parade. The day of the parade, I was in my Dress Blues. One of those Marines came up to me, looked me up and down, smiled and said "I approve." Which I have to say was not only a great compliment, but a huge relief.
I never received a single negative comment the whole time I wore the uniform. (Although I did get reminded a couple of times not to wear my headdress indoors.

)
One woman (former Air Force) said nothing and just shook my hand.
Couple of things-
I used to be an Air Cadet as a teenager. I've had military drill burned into my blood. So when it comes time to stand up straight and look sharp, I can do it without even thinking. That same Marine said that not only did the uniform look good, but that I "carried" myself well in the way I walked and acted (in other words I didn't look like a sloppy civilian wearing a uniform). I think this alone went a long way with having this be acceptable and not an injustice to the USMC.
I think it can be hit or miss. During the time we on the board were designing this uniform, there "was" some negativity associated with wearing a genuine USMC tunic. However another one of our members who is a Marine showed it around to other Marines (who don't do costuming) and the responses varied from "ALIENS! THAT'S AWESOME!" to "It's just a coat" (when you take off all the insignia).
I'm by no means saying that you will "never" get a negative response, but just that wearing a uniform of this nature comes with a healthy dose of reality that "someone" might take great offence to it (and Aaron is correct that if it comes to that, you will probably have to take it off). I guess it is a Your Mileage May Vary situation.
Kevin
_________________
I told you I'd shoot, but you didn't believe me!

WHY DIDN'T YOU BELIEVE ME!?!