The Viewer itself an actual Hama B101/3642, with the proper Vivitar pieces.
Built using the Hyperdyne guide.
Had trouble finding the large 1/4" stereo jack shown in the guide (since Radio Shack is pretty much non existent these days)
But the very same jack can be found as "Switchcraft 1/4" 6.5mm Right Angle Plug".
* Inside the Kango body, instead of the boxy female jack shown on the Hyper-Guide, I used a "NEUTRIK NYS2202"
Attachment: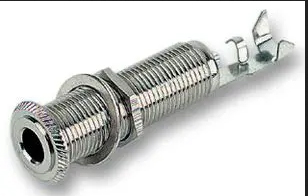 NEUTRIK_NYS2202.jpg [ 45.79 KiB | Viewed 295 times ]
Less cutting, takes up less space, and is a little "fancier" on the outside.
The video screen is one of these:
"Craig 4GB MP3 Plus Video Player"
Attachment:
It has a touch screen, accepts MP3, JPG and AVI video files.
Comes with a mini CD to install the program that converts videos to .Avi that it can accept.
Can be found on the bay for under $20
Drops right in place inside the Hama viewer. No trimming, No cutting, No gluing.
Snap the lid back on the viewer and it locks in place.
Can be left as is, but if deciding to do a little trimming, the player can be moved closer to the lens and appear larger.
I used the video on this page as a first try.
https://www.hollywood-collectibles.com/ ... ctid=16589
The player automatically loops the video, so it just keeps going.
It has a mini headphone jack, so that is where the speaker is going to come into play.
I believe if the wires were stripped on a pair of mini headphones, you could even use the 1/4" jack as a connection.
Headphone jack in the Viewer... Speaker in the Kango.