I had this sprawling complex planned for my Colonial Marines to investigate ala the colony in the movie ALIENS. I decided to start with something "small" to see how it would go, so I went with this "up-link" tower. It started out as a plastic 32oz drink cup turned over with other odds-and-ends stuck to it. It's mostly done, just adding a few more things here and there and then painting the whole thing.

Painted up the entire tower, added in the wires and control panels in the recessed area as well as the protective cover, as well as other details. Base is a piece of MDF with the edges sanded down and the whole thing covered with paper clay then textured. The scattered rocks are real, drive-way chat and chunks of broken-up plaster. The black square is a copy of the floor grate that came with a HIYA toys Alien warrior. Yes...there are patches of lighter greys here and there on the tower, that was on purpose, it's supposed to simulate paint repairs covering up worn away paint or graffiti.

Two things that bother me, the dry-brushing I did on the floor grate outside the terminal access is a bit too yellow, I swear it's not that vibrant in real-life, probably just an effect of the flash. The actual access area on the terminal sits way too low as you can see in the photo....the figure has to be posed bending over to be able to get into it...I don't think it was like that when I actually started building it, maybe the figure I used to get the dimensions was on the small/short side? Nothing can be done about that now, the techs working on it will just have to suffer lower back pain.

I'm really happy with how the ground work turned out. I wasn't going by any methods I was familiar with, I just kind of guessed at the whole thing.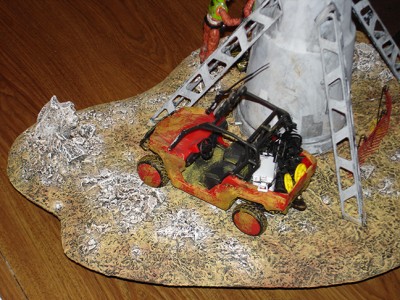 uplink7.jpg [ 492.58 KiB | Viewed 2000 times ]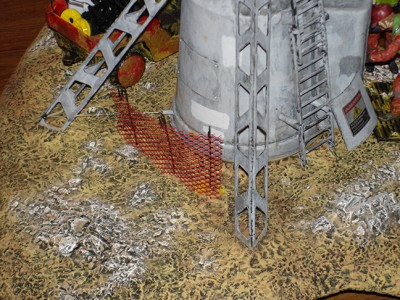 uplink8.jpg [ 528.68 KiB | Viewed 2000 times ]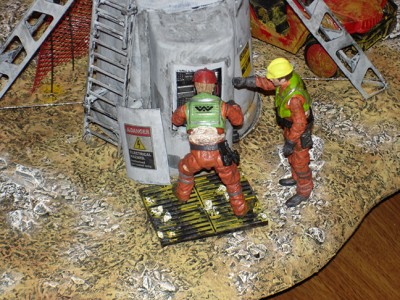 uplink9.jpg [ 536.29 KiB | Viewed 2000 times ]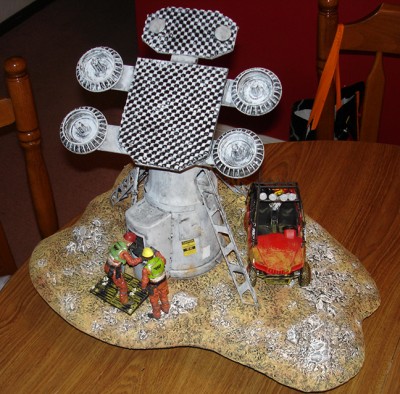 uplink10.jpg [ 552.83 KiB | Viewed 2000 times ]
uplink11.jpg [ 498.8 KiB | Viewed 2000 times ]

_________________
"Awww, someone tell me that's a boot!

It's a boot!"

II drops
Last edited by Dropshipbob on Wed Dec 27, 2017 4:44 pm, edited 2 times in total.