TazVader wrote:
Thanks legend. I was aware we dont see it on screen but I'm sure I saw some shots of a screen used set somewhere that showed the text really clearly so I could copy it exactly. He had nametap on his helmet cover?? I didn't realize.

Cheers
T
A
Z
Yeah, they all had the names on the back of the helmets. Of course most were painted, but Frost, Hudson and Dietrich (the ones with covers) had a name tape back there.
As for "screen used" Hudson BDUs, there are pics, but the resolution isn't good enough to make out the tapes.
I don't recall where this image came from, but I am pretty sure this set is legit (pic quality just isnt good enough)
Attachment:
*EDIT (previously credit to "prop store" in error)*
"Prop stop" had a set they claimed was Hudson screen used, but it had long sleeves. As most here can attest, the tight sleeve roll absent any bulk can't be achieved with long sleeves. Any 'screen used' long sleeve shirt from Hicks, Ski, or Hudson are all highly suspect in my opinion.
Attachment: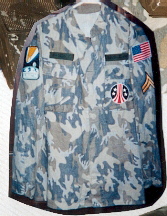 SU Hudson propstore set 2.jpg [ 32.06 KiB | Viewed 2468 times ]
But again, resolution too bad make out the tapes.
If you want to know how the tapes WOULD Have looked, here are two good shots of screen used Hicks and Frost name tapes. Of course Hudson's would look very similar (aka, not all that impressive!)
Attachment:
Attachment:
Attachment: