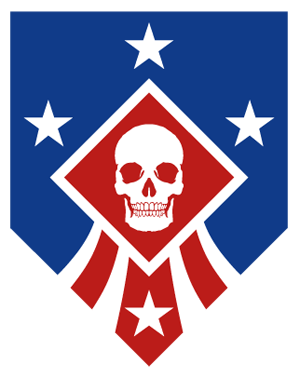 This is the thread wherein we discuss everything about the Colonial Marine 'Raider'. Some of you already know what this is, while others don't. There isn't much to know, of course, and so the need for this thread.
I'm in a rambling mood, so I apologize in advance for rambling.
Years ago I was invited by several attendees and event planners to run 'Aliens' scenarios at Dundracon, a fantastic table top role playing convention out of San Ramon, California. The requests were so gracious that I decided to jump in and really make the games good, and by good, I mean 'full of props', screaming, gunfire, props, xenomorphs and more props. To that end I created the 'Colonial Marine Raider', just to add a little something to the fandom.
Now, I did this for two reasons. First, it allowed me to make something all new and interesting and put a pin in the fandom. Second, I always loved the idea of the original Marine Raiders, so it allowed me to pay tribute to them. Coincidently, I also paid tribute to real life, killed in action heroes, by naming all the characters in the game campaign after soldiers from Utah that had died in service going all the way back to WWII.
Also, I got to make cool patches.
Strangely enough, I never actually made an image for the campaign featuring the emblem on an actual Colonial Marine. The patch artwork was used on character sheets, dossier-type documents of the various characters and lots of maps and vehicle printouts. Even when I made the patches, I was thinking of them from a collecting, more than wearing standpoint, so I never considered the placement in any great detail. And herein lies the problem. Now that I've sold many 'Marine Raider' patches, people are now asking me, "Where does it go on the uniform?", and the short answer is…
…I have no idea.
This isn't to say that it hasn't appeared on uniforms. Some Colonial Marines from all over have worn them on armor and uniforms for costly, fan films and the like, so if we base it solely on those, there is some precedent, but I thought we might go just a little further and open it up to discussion here.
Now, I'm not trying to shoehorn in a whole new branch of the Colonial Marines where it might not fit. It's just a fun little idea that I'd like to see added as a footnote in the greater fandom. A little faction of a greater whole, just like the original Marine Raiders. And since some of you might be reading about this for the first time, I'll post some minor details from the stuff I created for the convention years back.
In the campaign made for the convention, I borrowed from the regional 'Marine Raider' ideology of 'elite units' established for special 'amphibious light infantry warfare'. Think 'drop units for special operations in harsh, isolated climate areas such as jungles, islands of heavy vegetation, swamp regions, flood plains, etc.' While not strictly amphibious, these special operation units would serve as combat infantry in primarily wet, heavily vegetated climates.
The original campaign was on a very hot and humid planet with large primordial jungle regions. A science facility, built by Weyland-Yutani in conjunction with the military, shared the common use of power plants, water supplies, food, security areas, etc. The Military forces of that narrative were not made aware that WY had smuggled in samples of Alien materials and at least two partially damaged eggs to the shared facility. The science and military complex there housed, nearly 200 permanent personnel, over 300 different live, local species and countless samples of fauna, so it was ripe for exploitation by a xenomorph, should it escape the lab confines. Of course, it had. I'd not written much more about the Raiders in the form of history, but used them simply as a specialized force.
As I've stated elsewhere, "I haven't fleshed out all of the EU history surrounding it, but it's growing slow and steady. I've purposely kept it small and relatively ambiguous, so it can evolve well."
That said, and without adding any more history at the moment, I though we might tackle the uniform question first. Should this be so specialized that it would replace any of the traditional patches of the Colonial Marine, or should it be an added patch on the uniforms as they are now?
Also, I was totally flattered (when searching topics tonight) to learn that some of you have asked that your titles be changed to 'Marine Raider'. I didn't know that. Cheered me right up after a very long day at work.
More on point. Bacta Baby and his Colonial Marine Raider build…
https://www.youtube.com/watch?v=WbPPKZluwy8
Also, the art as a patch...