To be honest that thread suffered from the Great Ezboard Hack of 2005- many of the links to photos have been lost by the hack itself, or moved/deleted by the original posters over the years.
It wouldn't hurt to fire up a new thread, so I'll get things rolling with mine: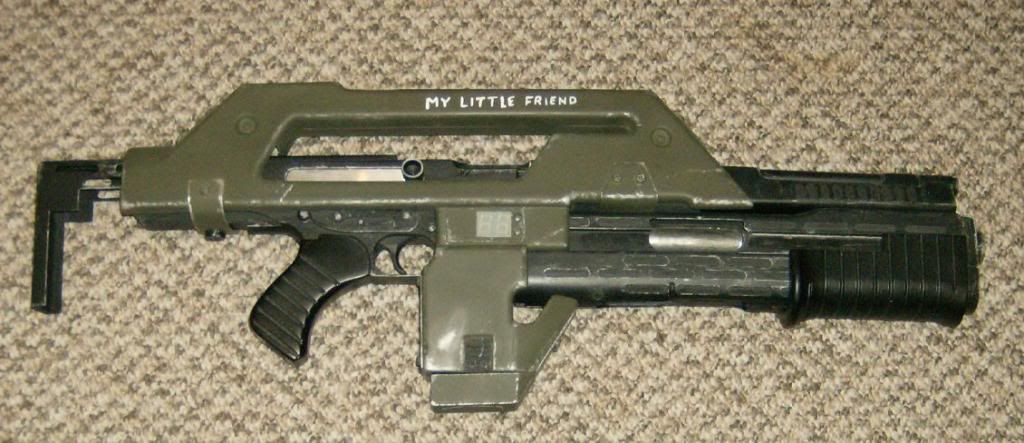 This is "My Little Friend." One of Matsuo first resin and vacformed shroud PRs. Purchased the kit it in 2004. So it breaks down into about 6 or 7 main parts (can really remember as it has been years since I've done it). Everything is held together with strategically placed screws. There is not a drop of glue/epoxy holding this thing together and it is as strong as a bull!
The counter does light up to 95 (doesn't count down though). The trigger moves and is spring loaded. The fire selector/safe switches and mag release are operational (the mag release is spring loaded too). Magazine comes out attached to the mag base. Looks like a 20rnd Thompson magazine as it should. The SPAS cage and barrel vent are resin. While the SPAS cage is hollow, it has been filled with expanding foam for support. The barrel vent is solid. The stock is resin as well. One of these days I'm going to bite the bullet and upgrade to a metal stock and barrel vent.
Some shots of the graffiti: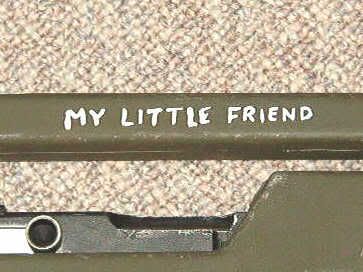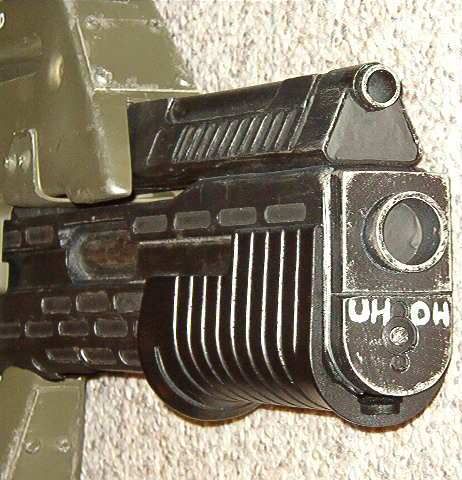 One with the shroud removed (just after priming):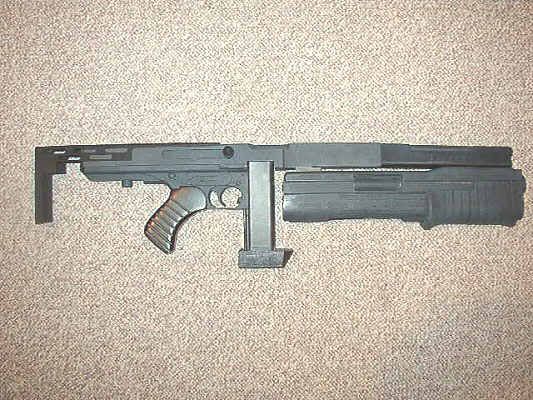 I really went to town with the weathering, if I could do it over again, I would have dialed it back a bit (my inspiration was the pics of the Alien3 rifle on Harry's site). Since I painted the shroud in 2004 (before learning the shrouds were Brown Bess) they are OD green. Again, one of these days I might repaint it BB (or a close facsimile to BB). However taking the shroud off requires the removal of several screws and strike plates- I haven't gone through with it for fear of stripping the threads of the screw holes.
Kevin
edited the typos
_________________
I told you I'd shoot, but you didn't believe me!

WHY DIDN'T YOU BELIEVE ME!?!