OK! Been busy attacking eBay for little odds and ends over the last few weeks. It's slow going, cause it takes 2-3 weeks for it to get to me.
I also dug through my electronics stuff and my broken electronics stuff and made some discoveries

On hand, I have
- Black planner, which I ripped out the rings and the leather card sleeves
- Yellow Multimeter (I had to remove the back to save space on the Z axis, so I will just cover the back with electrical tape or something. I probably won't ever use it anyway, but if I did, the electrical tape should protect it. The fuse for it sticks out a little past the edges of the housing though

)
- Pen test leads that came with the multimeter
- Alligator clip test leads with banana plugs (I am changing these, the cables are too thick when bunched up together like in the game, so I bought 2 pairs of cheap earbuds, red and black that I will cut the speakers off of and put the alligator clips onto, the plugs in the game look small like the 3.5mm jacks anyway, and there is only 2 visible)
- Diffused LEDs: 2 red, 1 blue and 1 green
- SPDT Mini Slide Switch: To turn the LEDs on and off
- Fried PS3 controller motherboard: This is too perfect!, I'm glad I threw it in my salvage box! I just need to take the analogue sticks and the Six Axis off. It has a Mini B USB port and a Mini White Tamiya female plug, so I can plug it into a few things (mentioned later)
- Male Mini White Tamiya plug: from the same PS3 controllers battery which I am sure isn't safe to use anymore... *SNIP*!
- Mini B USB end: cut off of my Turtle Beach PX3 charging cable which I never use, since I use a regular USB cable plugged into my PS3 to charge it. This one isn't a data cable, so it was useless to me anyway. Bonus is if I need it, I have the standard USB 2.0 plug to use as well!
- A used iTunes card: I will paint this and gloss clearcoat it without painting the magnetic stripe or the barcode on it and wire the Male Tamiya plug or a ribbon cable to it, to make it kind of like young John Connors ATM hacking device in T2, having it plug into the PS3 controller motherboard. Now, what to paint on it??? Additionally I can just get a cheap magnetic card printed from eBay with whatever design I want... Haven't decided yet.
- A yellow and black wrist strap for the "Pocket PC" I am building (mentioned later)
- Customized name tape and 3 Weyland Yutani patches: I had Linda from Camotech make these WY patches (or Morale tabs). I got 6 of them for $15

, Also the name tape is the excess I cut off of my tapes for my Service C shirt that I saved (I save everything!) with black sharpie marker and black sharpie pen, my name and service number.
- Black carabiner: Just because I think it will look good hanging from the outside
Inside the stripped planner, my evil plans
"LED HOUSING" and "HOUSING" are the little bar covers at the tops of the A:CM Bypass Kit. I have 3D modeled these to be 3D printed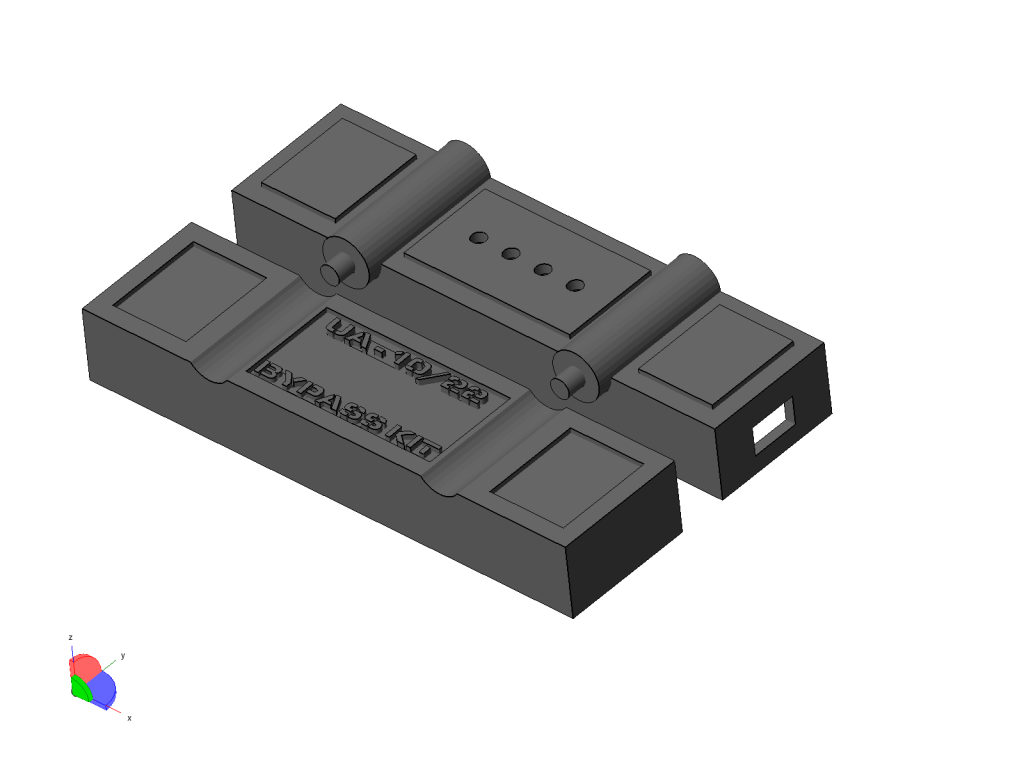 I have named my kit the "UA - 10/22 BYPASS KIT". Because that side's housing seemed too blank so I thought... "What would the model be called?". Well, fun fact is "10/22" is actually my birthday

. I have the hole on the side of the one for the SPDT slide switch. I have also ordered some 2x AAA battery holders, one will fit under the LED housing to power the LEDs. I did want to make the LEDs scroll through in sequence, but my electronic skills aren't that great yet and I don't understand it. (I've researched this extensively haha!)... Maybe later I'll figure it out

As you can see, the Multimeter takes up a lot of space, but there's still about .75" space between the multimeter and where the bottom of the circuit board ends, I will either rest the Pocket PCs wrist strap here, or the pen test leads for the multimeter.
I will be clipping the board back so it is more rectangle in shape once I get those sticks off, as seen like this, with the paper covering one side, so it fits better in the planner below the housing for the top. I will secure it to the planner by using some olive drab elastic band that I have ordered, so I can remove it to "use it".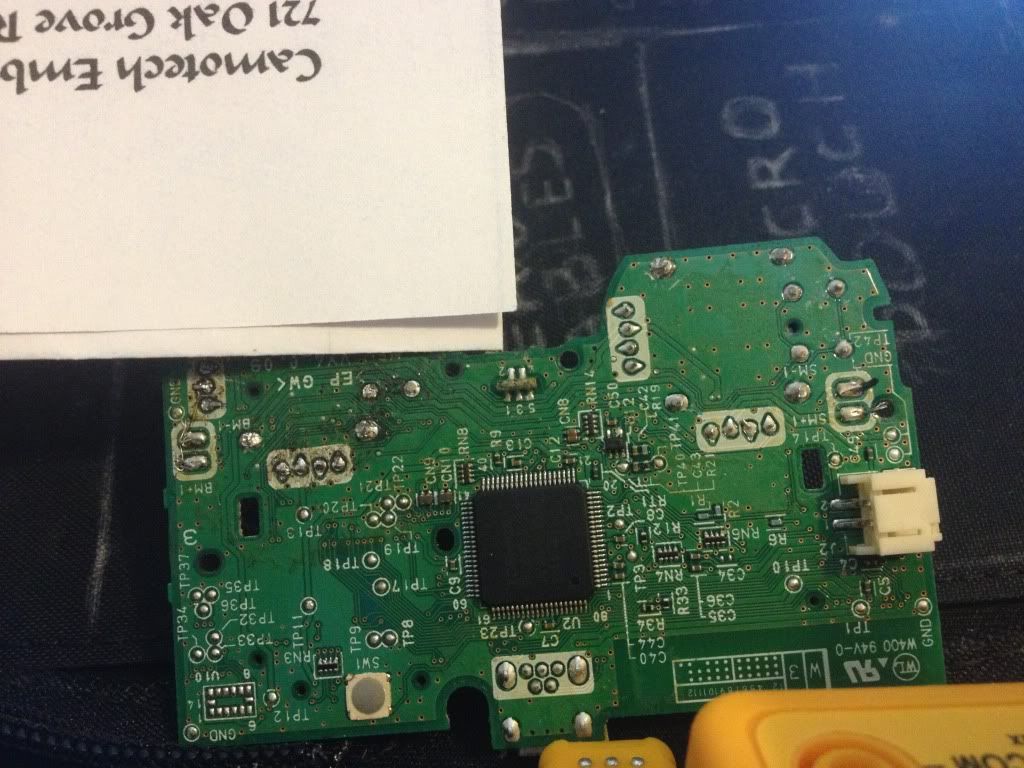 The space to the right of the board marked " 1.75" x 2.5" " is where I am putting my built "Pocket PC". I bought a chinese knock off iPod Nano 6th Generation, and I will model a small rectangle housing for it, with some little buttons on the bottom. I will then take my Mini B USB plug and splice a 3.5mm audio jack on the other end and have it plug into the nano, connecting the circuit board via USB, and the magnetic card via the Tamiya connector. The Nano will be able to play a loop animation that will say "Processing" or "Bypassing", etc...
The Pocket PC will have the L shaped antenna folded on the side as well, and the PC will be secured using velcro, as well as the Multimeter.
That takes care of one side!
Now, for the other side, up in the top photo of the planner, you can see 4 little arrow thingies, those are my Alligator clip positions. They will be secured by the olive drab elastic, the "LEAD CABLES" is where their cords will be bunched up and velcroed down.
The "VELCRO POUCH" will be big enough to store the magnetic stripe card and any little cables, like the Mini B to 3.5mm cable if it isn't attached to the Pocket PC and circuit board.
"ZIPPERED POUCH" is where my "tools" will go. I bought a 5 piece mini spanner wrench set, a 6 piece Allen wrence keyring and a pen style precision screwdriver with 6 different heads that store inside the shaft that will go in the cylindrical zippered pouch.
On it's way to me:
- 2x AAA battery holder
- Earbuds (for the Alligator clips)
- Wrenches and screwdriver
- Heavy duty zipper (cheaper on eBay than in town haha)
- D rings (I plan on sewing a "handle" to go on the spine of the planner on the outside, which will have a D ring with the black carabiner attached to hang the pouch off of me or my chair.
- 1/2" olive drab elastic
- "ChiPod Nano"
Still have to order
- Top housings for LEDs and other side
- Pocket PC shell housing, but I will do this once I have the nano in hand and can make sure it fits right

Gotta prod my "seamstress" to help me make my front cover with my patches and stuff on it, and the right side inside with the pouches which I will glue down since I don't think the sewing machine we have will sew through the planner stuffing and all haha. Maybe our old leather sewing machine will, but I gotta wait for my brother to come home to help get it from the neighbors since it weighs a ton. That won't be til May long weekend...
Almost there!!!