Attachment: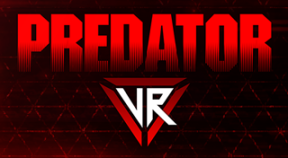 Predator VR Logo.png [ 34.82 KiB | Viewed 2436 times ]
First appearing on the PlayStation trophy website "Exophase", here's a glimpse of the trophies for an upcoming, unannounced PlayStation VR game (not to be confused with the recently announced "Predator: Hunting Grounds" for PS4) simply titled "Predator: VR"
https://www.exophase.com/game/predator-vr-psn/trophies/
Thanks to this list, we know we can expect a singleplayer, multiplayer (possibly co-op as well) and horde/survival type mode.
PREDATOR VR TROPHIES
Get to the choppa!
Escape the Jungle.
Gonna have me some fun
Get a headshot on a Narco.
Old Painless is waiting
Use the minigun to beat the Predator.
Dropped in a meat grinder
Survive the fight in the Village.
Sexual Tyrannosaurus
Clear Jungle without dying.
America is here, comrades
Stealth kill the first enemy in Secret Base.
Don't mind me, Mr. Gorbachev
Stealth kill all enemies in the first two rooms in Secret Base.
Cold War Combat
Survive the Engine Room fight in Secret Base.
What the hell are you?
Kill the Predator in Secret Base.
Ain't got time to bleed
Clear Secret Base without dying.
Other worldly annihilation
Survive 1 wave in Rampage mode.
In a world of hurt
Survive 5 waves in Rampage mode.
Nasty habit you got there
Get 15 trophy kills in one round.
I'm here! Come on! Do it now!
Complete a multiplayer match.
If it bleeds, we can kill it
Win a multiplayer round as a human.
Bloodthirsty
Win a multiplayer round as the Predator.
Melon! You son of a...
Shoot the watermelon in Secret Base.
Makes Cambodia look like Kansas
Shoot the snake in Jungle.
_________________
Cpl. Melissa L. Klassen, ALG
AL Colonial Admin. - Executive Officer (XO) -- 2020-2021
UACM (Canada) - Commanding Officer (CO) -- 2020-2021
Read the Aliens Legacy Charter for Rules & Regulations here:
https://docs.google.com/document/d/1i3gd9QUyIqI_6rfk8kpxspbKU-JT4MBAjLPxfCkvGJ8