Cosmic X asked me the following on the RPF.
[QUOTE=cosmic_x;2001971]So, honestly, what is your opinion about his now that you heard Dave' s explanation.
I mean, what do you think, really happened and what you would expect to happen now?
Just curious, you dont have to answer if you dont want to [/QUOTE]
This was my reply.
A timeline of the M579-D10 Razorback (interpreted by Andrew Pace from the original design concept by Ron Cobb)
When I first decided that I would be attending the Dundracon convention in San Ramon California, I approached Andrew about making a 3D model based on the original APC concept by Ron. Ron always comes up with very unique designs, and shows a very fresh approach to everything handed to him, so I wanted to see his unused APC design realized as a fully developed 3D model. Unfortunately, Andrew was too busy with projects at work and on a private film project, that he couldn't do it at the time. This was late 2010.
By January of 2011, our plans to attend the convention were set in stone, and as Andrew was still busy I approached Chris Schultz about interpreting the sketch in Blender so that I could use it at the convention. I sent an email to Chris on February 7th with the following message…
"Want to try your hand at the APC? Need a creative outlet?  See attachment."
The attachment was copy of Cobb's sketch from 1985.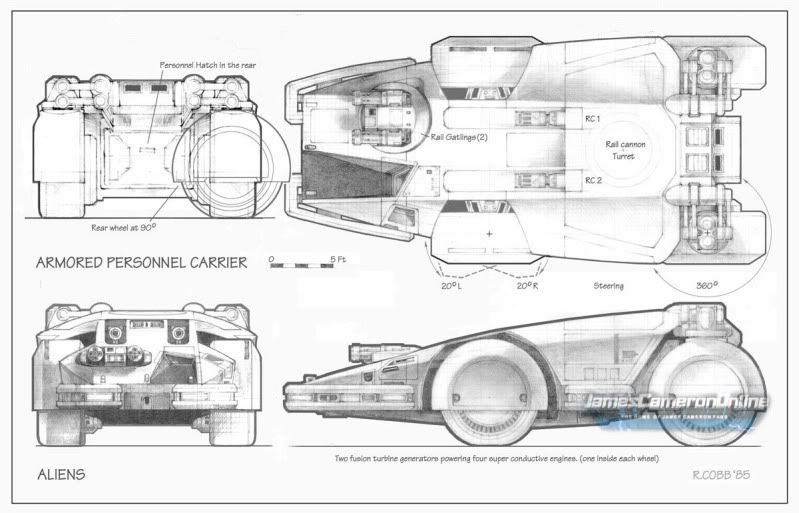 Chris and I discussed it at length by chat, phone and in person, but Chris was just learning the finer points of blender and working on several other projects simultaneously and didn't think that he could have it finished on time due to the complexity of the design. Just after this, Andrew surprised me by taking on the project, not only for my use at the convention, but as a portfolio piece showcasing his ability to create a working model from a concept sketch. I forwarded the same image to him on February 11th, and then two other sketches by Cobb.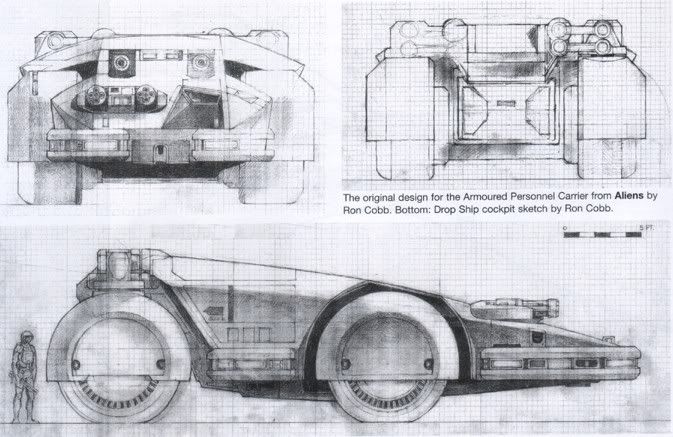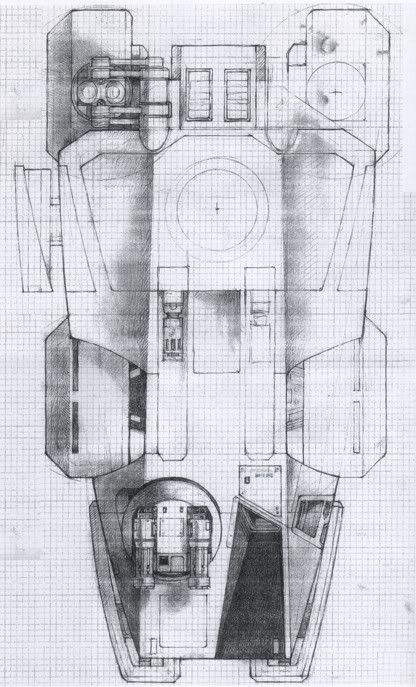 There are notable differences in the sketches. The first one that I sent to Chris and Andrew have high rear view ports or vents on the back of the APC, and a third dedicated 'lift point' on the 'hood' of the vehicle. There is also an indentation right in front of the driver side door on the first sketch, that doesn't seem to appear on the other views of the vehicle, and the same goes for an indentation opposite the vehicle on the second and third sketch. Things like this happen on concept sketches all the time, and only the original artist knows if these are 'changes', alternate ideas, or what-have-you, so Andrew had to make educated guesses. Without direct advice from Ron, he had to use artistic interpretation. Since the diagrams provided to him were not thoroughly labeled, we had to discuss what we thought Ron intended.
February 16, 2011 - Andrew sent me the first renders of the concept APC. He used Maya to create the model and he stayed as true to the original sketch as possible. At the time, Andrew was using the working title 'TANK' for the project, but I referred to this as the bisqueware model (from the ceramics term for unpainted, once-fired pottery).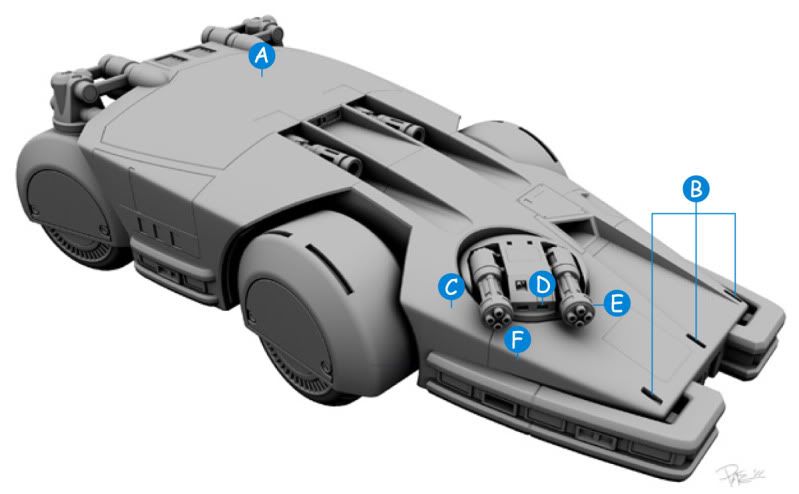 As you can see, it is closer to the original sketches than Andrew's later interpretations, and the truest realization of Ron's concept by Andrew. It does differ on some points.
A - It does not yet include the rail cannon turret ring.
B - Andrew was unsure about the lift points on the front of the vehicle. He was working overtime at work and putting in countless hours at night to get this done in time for my use, so he was going a bit blind. He misinterpreted the lift points as depressions in the outer plating. He later added the lift points. Though one of Ron's sketches shows only two, he aired on the side of caution and included the third from the other sketches.
C - Andrew had not yet put in the side indentation that allows the gatling turret to turn all the way to the right without the guns striking the slope of the vehicle.
D - Andrew opted to change the seamed plates on the front of the gatling turret to obvious viewports. His first artistic license.
E - He indented the outer ring housing on the gatling guns. His second artistic license.
F - Andrew had not yet added the unidentified, side indentation.
It was not a complete model by then, but I was leaving for California, so I began a stat sheet the same day using the images provided by Andrew.
February 23, 2011 - I completed the first draft of the stat sheet using Andrew's orthographics and three-quarter angle images. By then I had renamed the 'TANK', mimicking the nomenclature of the Aliens Colonial Marines Technical Manual. Page 68 of the ACMTM, Section 4.2 calls the Aliens' film APC an M577 Armored Personnel Carrier. I chose to designate the concept APC the M579-D10 as a later model APC. The D-10 is a subtle tribute to the A-10 Warthog. Not content with a numerical designation I also christened it the 'Razorback' and changed the name of the rail guns to 'Ballista Rail Cannons' or 'Tank Razors'. I was careful to mention to everyone at the convention that this was a model interpreted from Ron Cobb's original concept. After all, I'm a huge fan of Ron's work. Some of his most amazing designs (ornithopter, Nostromo, Gunstar) are among my favorite of all time.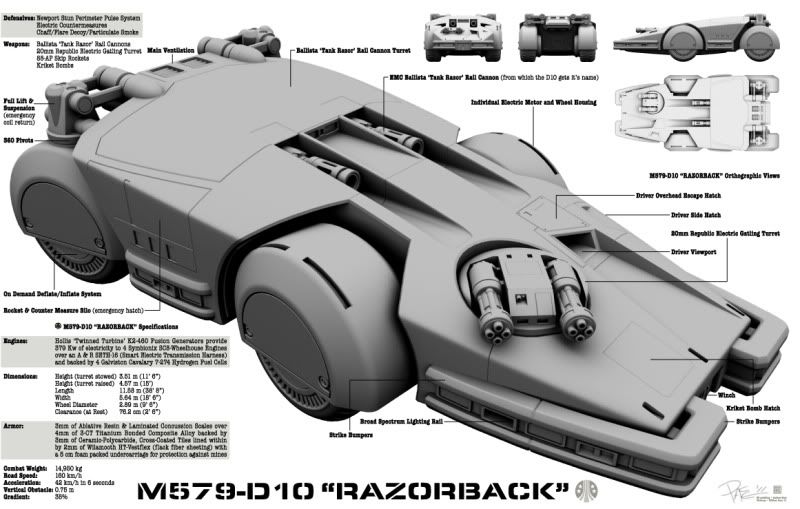 As you can see, we put a lot of time and effort into this project for the fans of Aliens. It was a huge hit at the convention and many of the fans there had never heard of, or seen, the original Ron Cobb designs, so we were able to show them side by side.
When I returned home from the convention Andrew asked me to wait to show the Razorback until he had time to refine the images, texture the model and output high resolution renders of the vehicle. During the next few weeks he decided to expound on the model a little to make the model slightly more interesting as a finished model. While remaining faithful to the shape and style of the design. Andrew ended up making some 13 distinct changes for the final model.
April 18, 2011 - BAMBAM announces their new blogspot with the following message… "Welcome to the new bambammodelproductions.com site. Please take a look at our product pages for of some of your favorite, highly detailed Military, Babylon 5, Battlestar Galactica, Aliens, and Robocop replicas.
April 28-29, 2011 - Andrew sent me renders of the model on that show the changes he had made to his first renders.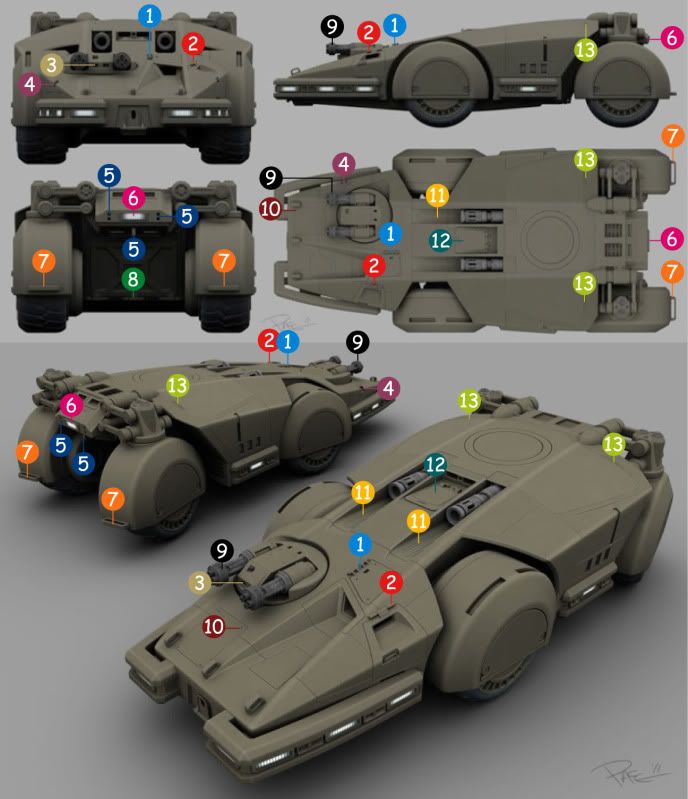 1 - Raised hinges on the Driver's top hatch.
2 - Raised hinges on the Driver's Side door.
3 - The viewports that appear in Andrew's first and final interpretations. The Ron Cobb sketch shows these as panels, but does not identify the purpose of them. They may be closed viewports in the sketch, but Andrew opted to make them obvious ports.
4 - Andrew chooses to make only one side indentation that is open from the top. This is a small mistake that Andrew and I both made when interpreting the sketches. It now appears that there should be one in each side of the vehicle and that they should by covered overhead. I've never asked Andrew to change it.
5 - Andrew added 'clip points' or areas where rope or cable can be attached. Many armored vehicles have these for towing and cargo gear, so Andrew felt it would make the rear of the vehicle more interesting and I agreed.
6 - Andrew felt that there should be a rear light for the use of the soldiers. There is also lighting under the small roof between the back wheels which you cannot easily make out on these images, so that the whole area between the wheels could be illuminated for entering and exiting marines.
7 - Rear lift points/grab points on the 'fenders'. Lift points are for airlifting a vehicle and with no 'dedicated' points shown, Andrew added these. He also felt that they could be used by the ground team to straighten out the wheels if they were stuck in a position that prevented the vehicle from moving due to some system failure. Ron shows that the rear wheels can turn 360 degrees, so Andrew placed the grab points as an additional/manual failsafe.
8 - Three exterior hinges at the bottom of the rear ramp door.
9 - The indentations on the gun housing that appear in both of Andrew's interpretations.
10 - Andrew added rivets to the panel in front of and below the gatling turret.
11 - He added raised grooved in the two channels for the rail cannons.
12 - Andrew changed the panel between the two rail cannons to a top hatch with a depressed handle and raised hinges.
13 - Depressed section were added behind the rail cannon turret.
With the final images done, I completed the new stat sheet that same day and posted the following images to the Aliens Legacy forums and the Replica Prop Forums. The new stat sheet included the additional citation about Ron Cobb, which I had forgotten to add for the convention. The new stat sheet also contained more information about the vehicle's tactical/defensive capabilities and performance ratings.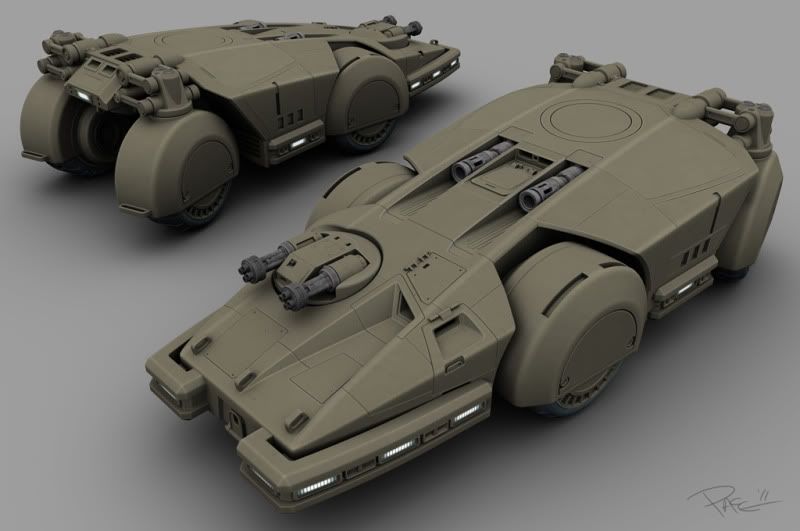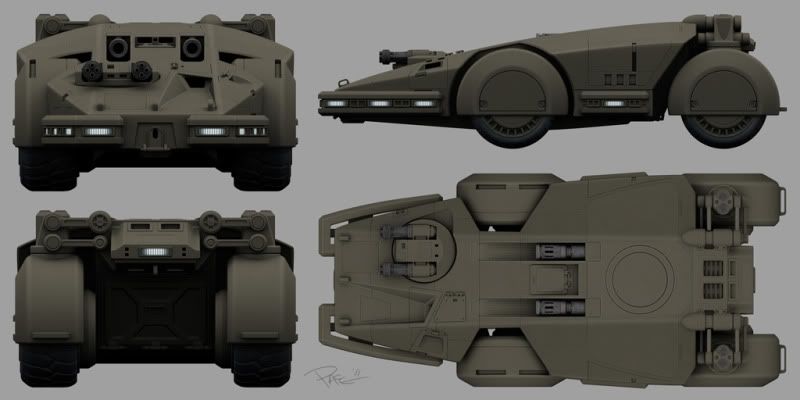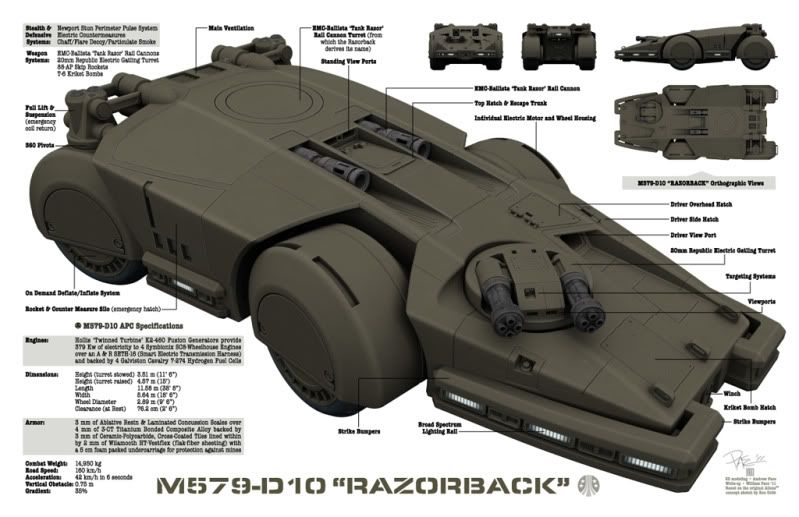 While people have issues with the early APC from a design aspect and military application aspect, the model was well received, and within a day of posting it (April 30th) we learned from Harry Harris on the Aliens Legacy forum that Mike Rush had modeled the concept APC before. Mike Rush, the only other artist that we know of to model the concept until Mana Studios, posted these images of his rendering from 15 years earlier. It's an awesome, faithful recreation of Ron's design.
With the model finished and being passed about the net, Andrew decided to have fun with the piece and expanded on his portfolio by creating a NERF version of the APC...which takes artistic license to an all new level. I posted these to several forums on May 11th.
NOTE: Andrew worked on the NERF game for the Wii, so he really had fun with this one.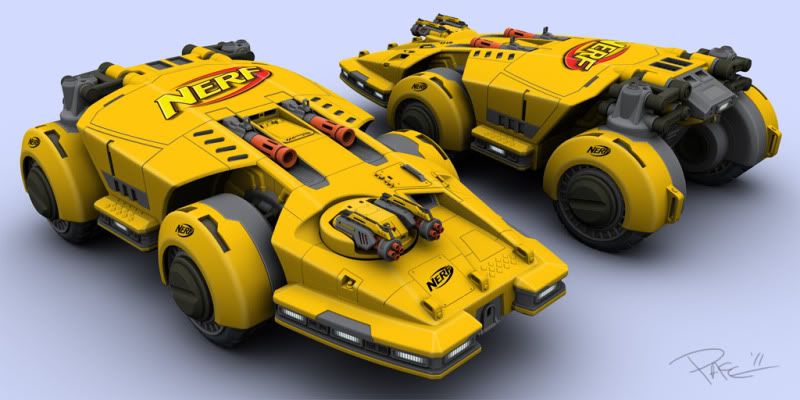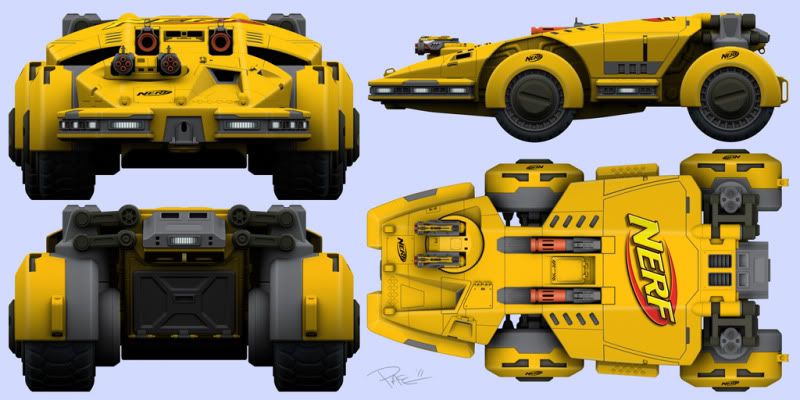 In August we took the stat sheets to SpoCon, a sci-fi/fantasy convention in Spokane, Washington. They traveled alongside prints created by Space Jockey (Graham Langridge) to be used for gaming and a panel presentations on the Aliens fandom.
September 25, 2011 - BAMBAM Model Productions announces the release of the 'M579-D10 Razorback'
Screen Captures from October 28th:
September 26, 2011 -
http://www.starshipmodeler.net/talk/vie ... sc&start=0
When asked the following in a thread entitled 'Bambammodel productions new kit'…
abu625 wrote:
Nice design, Dave. Whose is it?
…Mister Davis answered under the username bambamproductions.
bambamproductions wrote:
drew did it
and jay our guy did the real re-work and is doing all the work all arround and you know how good they do molds,pours and 3d grows they did.
they did our Poseidon
And the warlocks big and small also our new turrets for the pegasus they did a few for you too.
so they know how to do it quite well.

This post demonstrates that Mister Davis was familiar with Andrew's first name, or more importantly that he also goes by 'Drew' a detail not listed anywhere on the images of Andrew's work. This is something that Mister Davis would have had to learn about independently, because Drew signs his work with his surname, 'Pace', not his first name.
On October 6th, Winch (a member of the Aliens Legacy forum) pointed out that BamBAM Model Productions was building a 'Razorback' model and advertising it with images created by Andrew. This was posted in the thread I had started back in April.
October 13th - Mister Davis announces the following on Starship Modelers…
bambamproductions wrote:
This still amazes me that man can do(no disrespect to all women)
this a 3d print.It still makes me think of a replicator from Star Trek.
The 3d wires are done and Mana studios has gotten the materials and the wire 3d model is being broken down to easy parts for assembly and now being printed.
Pictures will be posted as it comes out of the printer.
October 17th - Mister Davis announces on Starship Modelers that the printed wheels, turret, back door and the rear struts have been grown…
http://www.bambammodelproductions.com/b ... ck-update/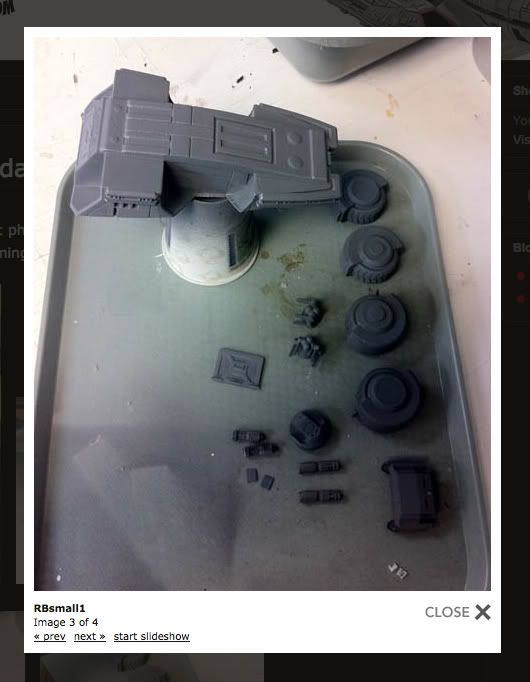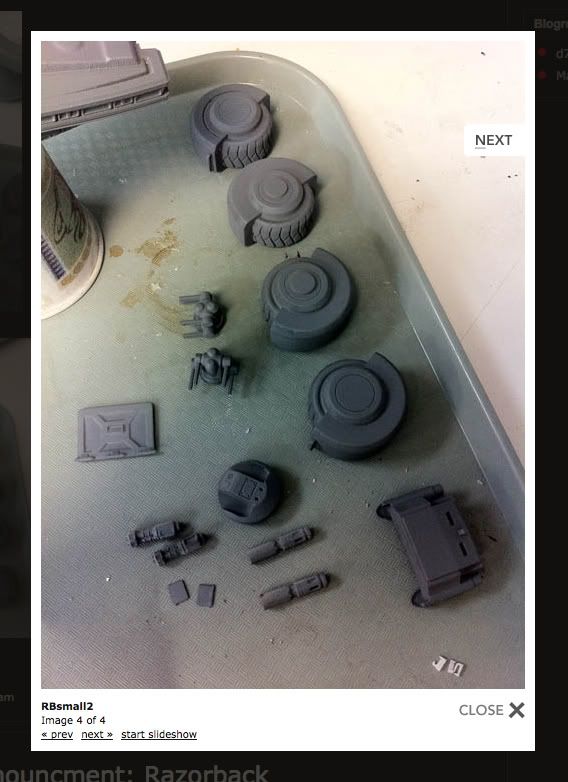 ….and on the same forum on October 19th - Mister Davis announces the following…
bambamproductions wrote:
The Master is done and the sanding and a few blems cleaning and the kit goes in Rubber!
I do not frequent the Aliens Legacy site often, so I didn't see Winch's mention of BAMBAM until October 27th. I looked up the site and found no mention of Andrew anywhere on the it. Further searching on Google using the search 'M579-D10 Razorback' revealed that it was being pre-sold on Monsters in Motion and Frontier Models. Again, there was no mention of Andrew, and in one case my stat sheet was shown. The site was using one of Andrew's images and what we'll refer to as the MANABAM-APC (which like the images of the 'grows' clearly shows all 13 of Andrew's changes, choices, mistakes and artistic license).
The MANABAM-APC is different in two main respects. One, it has a fully rendered, original undercarriage, which does not appear in Andrew's orthographics. Two, the seam lines and rivet holes are deeper, for the purpose of growing a small scale model off of a 3D printer.
And yes, I was angry. Angry enough that I don't recall if I called Andrew or my wife first.
Screen capture from October 28th.
I do know that I contacted Monsters in Motion by phone that day. I told the man who answered that they were using intellectual property of ours without permission to sell a model that contained details only found in Andrew's interpretation. They were also using the 'M579-D10 Razorback' name that we had given to the finished design. He told me that he "didn't know anything about it" and asked me to refer all questions and issues directly to "Dave" at BAMBAM. The page also included a small, clickable image of the MANABAM-APC orthographics.
Screen capture from October 28th:
I sent an email to Frontier Models the very next day on the 28th of October asking them why they were distributing a model. It was a very direct 'What the hell, man?' email, but I was still pretty upset at the time. Having one's work taken, used, claimed, profited from…it's a violating feeling. Despite my confusion and anger, Steve returned my email immediately and was direct and to the point.
"Dear William 
I really do not know what is going on here?, 
I have contacted David Davis of Bambamproductions who says that i should direct you to him so here is his email address...
bambamdave@hotmail.com
Please let me know what happens. 
Regards
Steve"
I did not want to contact BAMBAM by mere email. Not without learning more about them. Comments already being posted to the various forums gave me pause, so I started looking about to see where else the M579-D10 Razorback might be popping up and to learn more about BAMBAM itself. I found that I was familiar with there work, but had never heard the company's name before the 27th.
November 5th - Mister Davis announces on the Starship Modeler forum...
bambamproductions wrote:
They are going out today.
All the kits are starting to be shipped.
On November 13th, I found mention of the M579-D10 Razorback on the KitMaker Network. They mentioned the model from BAMBAM on two separate sites (ModelGeek and Armorama) and credit was given solely to James Cameron and Stan Winston, with no mention of Ron Cobb and/or Drew.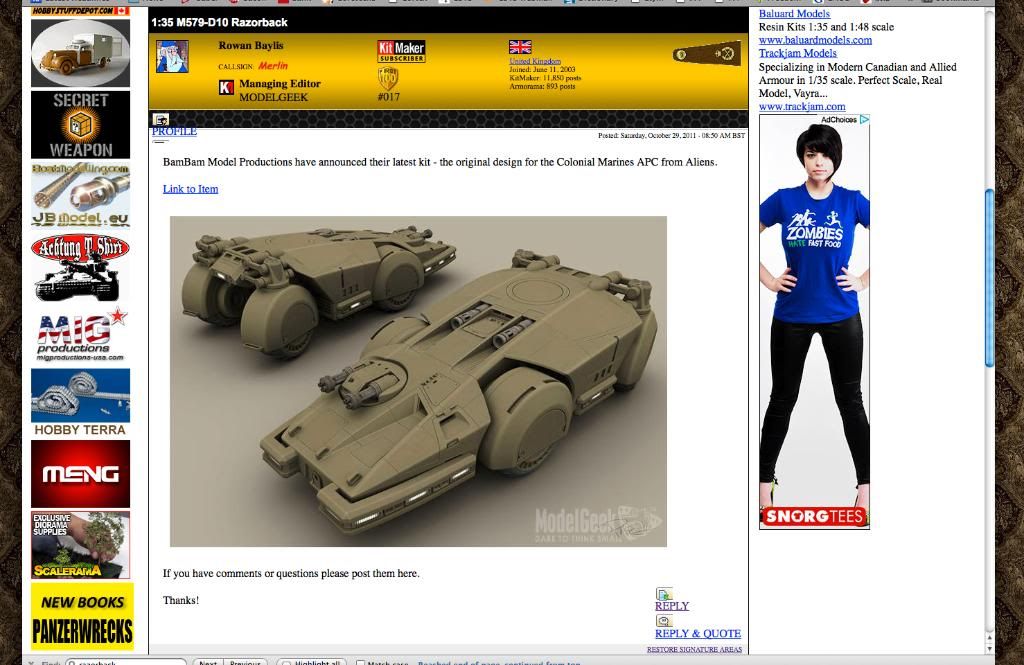 On November 14th, at 1:40 AM, I found the first of any mention of Drew on the Starship Modelers forum from a post that Mister Davis made on September 26th. See earlier citation. I posted the following under my online handle, Yellowjacket…
Yellowjacket wrote:
http://www.therpf.com/f11/ron-cobb-apc-modeled-andrew-pace-114697/
November 14, 2011 - People begin volunteering unsolicited 'legal advice' on forums and in private messages. I read these, but I wasn't considering legal action. I was planning on speaking to Mana, BAMBAM, Frontier Models, etc. that day, to ask that they take down any images of Andrew's work. A standard cease and desist request.
Knowing nothing of Mana Studios, I chose to call them first. I could not be sure of Mana's involvement in the affair and no one had said anything about them in any of the forums discussing the issue, good or bad. I had always suspected that they were unaware of problems stemming from the whole BAMBAM mess, but I simply didn't know. Jay Garcia answered the phone and I immediately began asking questions about Mana's involvement with the BAMBAM project. Jay talked about it with great enthusiasm, but realizing I had not introduced myself, he asked to know who I was. I told him my name was William, and gave no last name. He asked why I was interested, and I explained that I wanted to do a write-up about it for a zine called Chameleon (Monochrome Chameleon is a sci-fi literary magazine now in its sixth issue). While I did and still do plan to do a write-up, I did not tell him the primary reason for my call. He only volunteered that BAMBAM supplied 'images' to him and asked that I contact the people at BAMBAM to get permission to ask him anything else.
I next called BAMBAM and David Davis answered the phone. Unfortunately I was disconnected and couldn't call again for almost 15 minutes. When I did call, I introduced myself as William Pace and explained that I was calling about the 'M579-D10 Razorback' and asked why BAMBAM was using my brother's art and the name I had given it without permission. He apologized and said that he was 'Sorry' and that he had 'thought they had got permission from us'. I told him that we had never been contacted and asked how they had tried to contact us. He said that a 'guy' of his was supposed to contact us and said that he would speak to the 'guy'. I asked if I could speak to him and the conversation took an ugly turn. I could give you highlights, but it would only remind me of how rudely I was treated while just trying to find out what happened. He did ask me once during the conversation if I wanted him to take down Andrew's art and I said yes. I made no demands for compensation. I made no ultimatums. I simply tried to explain how we had gone about making the interpretation and how we had named the image. Mister Davis eventually hung up on me, but not before using what I can only describe as the 'playground mocking voice' which I haven't heard anyone use since middle school.
I walked off the conversation for about five minutes before calling Jay back. I introduced myself as William Pace and explained the whole mess as I understood it, apologizing for not being forthright with him before. Jay was understandably cross with me and told me so in no uncertain terms. I admitted to him that he had every right to be angry. I had led him to believe that I was calling solely to interview him, but asked if he would be willing to answer one question despite this. He said that he would. I asked him if the images provided by BAMBAM contained a signature. Jay was hesitant, and I reassured him that he was under no obligation to tell me anything because of our earlier conversation. Jay fetched the printouts and told me that all of the images provided to him bore the signature 'Pace'.
I'm grateful to Jay, but still embarrassed for treating a fellow artist this way. He has my continuing apology.
Assured that BAMBAM had given the images to Mana Studios without explaining to them that they did not have permission to use them, and knowing that Mister Davis had already admitted that 'Drew did it', I went to contact Frontier Models and Monsters in Motion and formally ask them to take down the images of Andrew's work.
Before I could contact Frontier, I found that they had already removed the images and set the product status to 'unavailable'. I sent them an email thanking them for removing the content. Steve wrote back to me and asked if he could use the new images supplied by BAMBAM seen here…
I explained to him that the image he now had was the rebuild that Mana had supplied to BAMBAM. I also pointed out that it copies Andrew's work and that they should know that a stigma was now attached to the project.
Steve thanked me, and we haven't had anymore interaction.
I sent the following to Monster in Mostion.
"To Whom it May Concern,
I just posted the following on a few forums where the discussion about the 'M579-D10 Razorback' is taking place and I am formally asking you to removed the images of the 'M579-D10 Razorbac'k from your site.  Frontier Models has already removed the product from their website.
-William
"First, let me just say this.  I'm sorry for dragging Jay into this in any way, shape or form.  Jay is in upright guy that deserves better than to be a part of this little mess. 
I called Dave Davis at BAMBAM Model Productions to ask about the production history of his APC model.  I explained that Andrew designed the model that they were using to advertize their castings and that I had come up with the name.  Dave said that he was sorry, because he thought that they had permission.  I told him that no one had ever contacted us and that I had learned of the model from a posting at the Aliens Legacy forums. 
viewtopic.php?f=3&t=9904&sid=28573a099598f1d2e
42a5bae8994d325&start=25
Dave volunteered the following information.
A - They created the model from a clay, 3-dimensional model made by Lou.  I forget the last name that he used.  When he cited the clay model I asked him why he said the following on the Starship Modeler Forums.
http://www.starshipmodeler.net/talk/vie ... =0&postord
er=asc&start=0
bambamproductions wrote:
drew did it
and jay our guy did the real re-work
and is doing all the work all arround and you know how good they do
molds,pours and 3d grows they did.
Again, he said that he had thought he had permission, but wouldn't let me speak with the person that was told to get it from us.
Note: I've confirmed that the images supplied to Mana are Andrew's art and that they bear Andrew's signature and the new 3D model was made from these references.  Again, I don't blame Mana Studies for anything that transpired. The casting that they did of the model is faithful to Ron Cobb's wonderful concept and Andrew's interpretation.  The casting and 3D modeling of the project are superb, and Mana deserves positive credit despite what happened. Jay was more forthright with me than I was with him at first and he has my apology and thanks.
B - On the subject of the name "M579-D10 Razorback", Dave says that one of his guys from Arkansas came up with the nickname and the numerical designation, though it exists nowhere else that I know of.  You can judge for yourselves if it's zeitgeist or not.
C - His only offer in this whole business was to take down those images taken directly from Andrew's model before accusing me of trying to scam him for money and said that my approach was dishonest.
D - He said that the whole project was done by BAMBAM and Mana Studies start to finish, so I reminded him that he volunteered that 'Drew' was involved on the project and that they he had thought he had our permission, which contradicts an in house project start to finish.
I don't know if we'll chase the matter any further than to ask them to take down the images at all of the places which are using them for advertising. For my part, I feel defeated by the whole business, but I wouldn't blame anyone who still wishes to add the BAMBAM piece to their collections.  After all, Ron and Andrew do beautiful work."
I did not threaten any retailer with legal action or ask any of them for compensation. I did ask them to take down the images of Andrew's work and I was careful to point out that the project had a reputation.
Later that night BAMBAM pulled the images from their website and shortened the product name to 'Razorback'. The model remains unchanged and is shipping to buyers worldwide. Mister Davis also responded to my posts by saying that he still wants to know 'What I want?'.
The last question that I asked Mister Davis yesterday on Starship Modeler was this…
Yellowjacket wrote:
Where did you discover my brother's recreation of the Cobb APC?
bambamproductions wrote:
I found it after I had sent first stuff to man and had sent it to two other shops for qoutes not that long ago.
Summer I guess I was working off of the Ron cobb stuff and the drawings lou had then the clay model pic like an old poloroid in his tool box a few years back.We found the drawings on a lark .
I think someone sent me the pic from goggle.
Mister Davis sent me private messages asking me again to tell him what I want, which I've answered both on the phone and off. Who? What? Where? Why? He has also asked me to call him on the phone. I could go the rest of my life without hearing that 'playground voice' again. He has tried to offer me compensation now. Repeatedly in fact, but after the treatment by phone, the refusal to let me speak to any of his 'guys' the repeated remarks about me 'threatening' retailers, etc., I'm not sure what I'd ask for. If I wanted models and money I would have led with that long ago.
November 15th - I received a message from Jamie French at Monster in Motion with the following message. "We will remove the images shortly"
Mister Davis ends with this from a post on Starship Modelers...
bambamproductions wrote:
I'm NOT going to entertain this banter any longer. This needs to stop now.
I did NOT steal any designs from you or your brother.
I would be more than happy to discuss this further with your brother, NOT you.
Please leave my family, my vendors and my customers alone. They do NOT need to be harassed by YOU any longer.
I am NOT a large overseas business, but in fact a guy who makes/sells product as a garage business.
I am NOT going to pull this kit from being sold. It is available to all those that are interested in it. In fact, all forum members who are interested in it can have it for $70.
Do NOT contact me anymore. I will NOT respond to YOU anymore. We're done.
November 16th - Frontier Models renamed their product the 'Warthog'. They are now using the MANABAM-APC images.