OK, Here's the same image again, but with my own highlights/boundaries drawn on it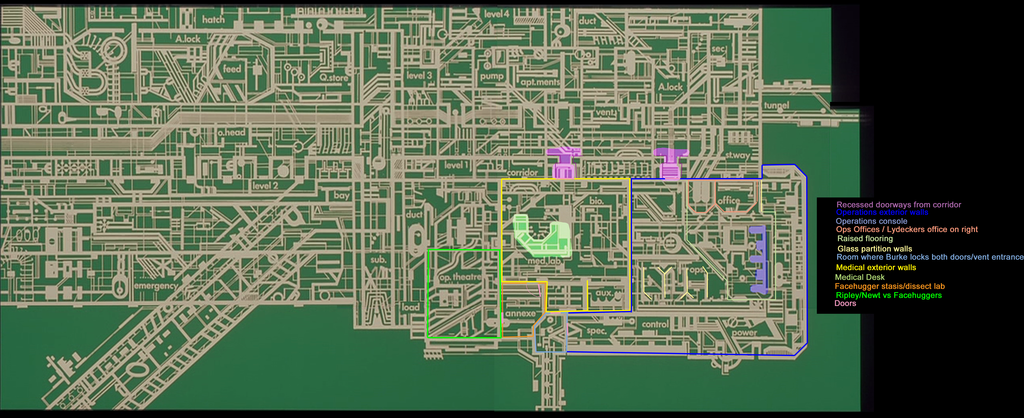 This is my interpretation of Level 2. I've based it on stills from the film, and a photo of a miniature diorama of Ops/Medlab from the production images on the bluray.
In the light blue room with the two doors Burke locks, in the film, the entrance to the vent is at the bottom of the image, directly across from the pink door leading to Medlab and next to the door from Ops. Burke gets attacked at the main Medlab door off the corridor.
The issue I am having with the vent entrance and whole system is in the film, Newt and Ripley remove the vent cover, Vasquez is next to them welding the door to Operations and Hicks/Gorman are fighting to open the door to Medlab. When the vent cover is removed, Ripley shines her light into the vent and you can see the vent turns right. Except where the film shows the vent entrance and the vent extending, it's past the exterior of the complex! We know the vent system reused the same portions of vent to make it seem more hectic, so there's gonna have to be some heavy artistic liberty to make it make sense!
Attachment:
Attachment:
Attachment:
Attachment:
Here's the look inside the vent.
Attachment:
I studied the whole vent sequence, I've tried to follow Newts directions and also draw in all of the 4 way path crosses. I thought that they were moving toward south lock but they seem to move back toward North lock. Let me finish my studying on this and I will post it when I'm a little further. I had to scrap it because I didn't realize after Newt falls down to the sub basement sewer, they walk a short distance and emerge from the elevator at the North Lock entrance.
_________________
Cpl. Melissa L. Klassen, ALG
AL Colonial Admin. - Sergeant at Arms (SgtA) -- 2019-2020
UACM (Canada) - Commanding Officer (CO) -- 2019-2020
Read the Aliens Legacy Charter for Rules & Regulations here:
https://docs.google.com/document/d/1i3gd9QUyIqI_6rfk8kpxspbKU-JT4MBAjLPxfCkvGJ8