Thought I would have a go at building a pulse rifle that had seen a bit of action from stuff I had lying around.
The base for the build I had to purchase specifically, namely the Airsoft Thompson and SpaS 12, although these are reletively expensive it is hoped that the rest of the build will bring the overall cost down.
This build is a kitchen table top build using the following tools:
Tenon saw
Hack saw
Junior hack saw
Mitre block
Stanley knife
Exacto knife/scalpel
Electric hand drill
Screw drivers (various)
Scroll saw
Elastic bands
Plastic clamps
Milliput body filler
Hot glue gun
Gorilla glue
PVA glue
Super glue
The finished build will not be an EXACT screen copy, and some parts will be inacurate because of the stuff I have to work with.
Mistakes will be NOTED and where possible alternatives offered.
Also suggestions from other members will be incorporated and if not fully adopted, reasons will be given.
The next two images show my build so far and the following images is the journey of how I got there.
Any suggestions or queries are welcomed.
More images to follow.....
Attachment:
Just a pile of stuff that will eventually be an M41A pulse rifle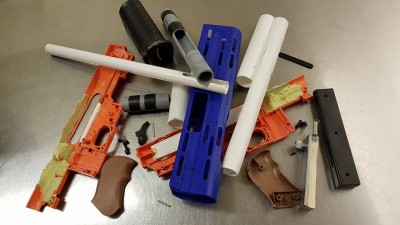 28783047_10155645948623802_8726605734168494080_n.jpg [ 60.14 KiB | Viewed 3700 times ]
Attachment:
_________________
My mommy always said there were no monsters, no real ones... but there are.